1st Global Mara Seminar & Concert Malaysia liata Rohna Kawpa ta hmah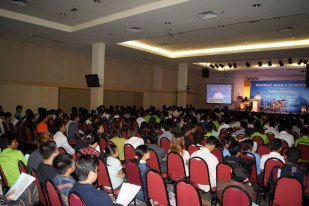 Kuala Lumpur, MY (MCC Malaysia) – Mara history liata ngiatlahpa Global    Mara Seminar & Mara Concert ei 1-na cha a rohna kawpa ta Malaysia khihpi Kuala Lumpur liata Dec. 3-5, 2012 khata hlaotloh kawpa nata a rohna kawp ata a hma hawpa a cha. He ahmana liata report chyupa nata nothlahzy cha he programme peimawh kawpa ataotuhpa Mara Community Committee (MCC), Malaysia tawhta ary liata thatih maniah ama pahnosapazy rei theipa a cha.
Mara Community Committee hmalapa Global Mara Seminar nata Concert cha Su to liata unaw namozy thlachha baona vata hlaotloh kawpa ta nata ronah kawpa ta eima hma thei hapa vata nama cho liata MCC Malaysia ta alyna bie chha tiah leipa eima cha hla. Paper Presentation maniah achhuanotuhpa eima no'pawzy hnoh chhaota alyna bie hla hra pita; ama paper chhao he Mara sawzy pahno byuh kawpa sai chata, Malaysia Mara sawzy eima thohkhei hmeiseih. Hla m'iah asatuhpa Siaha tawhta a vaw tlohpa: John Beizachhi Phuto nata Ls.Vasty T. Azyu hleikhota Malaysia liata Marasaw a ypazy: St. C.To To, St. Vasalaw Hlychho, St.Hrema, St. J. Sahmo nata Ls. Minge, zy hno chhaota MCC ta alynabie eima hla hmeiseih hra.
Chavata, a Ei 1-na Global Mara Seminar nata Concert cha pasai chhih leina chota 05/12/2012 noh liata pachhasapa cha ta; he Seminar tawhta rei pahmaopa liata tao theipa chasala tahpa eima khopazy cha api viapa mia sari (7) chata, chazy cha:
01). Mara Literature Committee hnei awpa
02). Nochhi Mararah liata Mara Khipipa (township) hmô thei n'awpa ta hriapazi lyma awpa
03). Global Mara Seminar he taopazao lyma awpa
04). Eima Mararah hmasienaw pa chata Rah to liata a y pa MCC (or)Phu/py zydua ta hria pazi leima awpa
05). Mara cha ataotuh penaw atheithlana taothei awpa
06). Eima Mara Thaokina chhaichhi zy pabo sa awpa.
07). Hlano Mano/Mapaw zy Pahrana Mara Khizy liata pahra pathei awpa.
he zy acha.
Global Mara Seminar nata Concert hlaotloh thei n'awpa ta Soh nata Piah ta m'iah avaw deichhytuhpa su to liata Mara sawzy nata Paper Presentation pha kawpa maniah avaw pachutuhpa Puhpa M. Vahnei, Puhpa Sahliema, Rev. Victor Ve U, Rev. Maiki, Puhpa C.Laiki nata ama pohpa vaw tlo leipa ta Paper m'iah avaw paphaotuhpa Dr.K. Robin nata St. Elaisa Vahnie, Greeting Cha m'iah avaw paphaotuhpa Puhpa Hiphei (Khaihra Paw), Ex-MAP nata MADC Chairman hleikhota St. Elaisa Vahnie cho lia chhao MCC ta alynabie eima hla cha nei hei na. Nama tao phana zydua vata Khazoh pata hlaotlona ta cha tobi lyma mawh ei sy.
Global Mara Seminar nata Mara Concert eima taopazao lai leima aw tahpa hnabeiseina lai ngasa chota.